Shows for kids run every Wednesday and Saturday at 10:00 AM and are $5 for kids and $10 for adults. Although labeled for kids, these one hour shows are great for all ages and are performed by our professional actors just like our main stage shows. They are always child appropriate in content and the perfect length of time to keep them entertained without getting bored.
Announcing our 2020 Shows for Kids!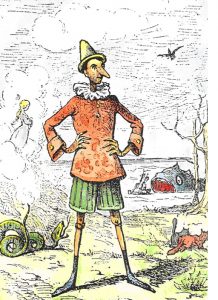 The Commedia Pinocchio
The Pinocchio story told here by Columbine, Arlequin, Punchin, Rosetta, and Pantalone follows the events of the original Collodi tale, which is more worldly than later adaptations. With the unique spirit and fun of commedia dell'arte, Pinocchio springs to life from a block of wood and gets swallowed by a great fish; a beautiful prop that Pantalone frets will get dirty.
Wed. July 1 – 10:00 AM
Sat. July 4 – 10:00 AM
Wed. July 15 – 10:00 AM
Sat. July 18 – 10:00 AM
Wed. July 22 – 10:00 AM
Sat. July 25 – 10:00 AM
Wed. July 29 – 10:00 AM