Maples Repertory Theatre holds six mainstage productions each season. Below are the six shows featured in our 2021 season.
Season Tickets, You Pick Fours, Group Tickets, and Individual Tickets are on sale now! Click here for pricing information for our 2021 season.
June 16 – July 11
This celebration of music & lyrics of Irving Berlin follows the journey of a piano as it moves in & out of American lives from the turn of the century to present. Along the way, the story comes to life as the cast sings & dances to over sixty of Irving Berlin's most beloved songs including "Blue Skies", "There's No Business Like Show Business", "Puttin' on the Ritz", "Always", "White Christmas", and "I Love a Piano".
---
June 23 – August 1
Two men play the entire cast of over twenty eccentric characters of both genders and various ages who live in the second smallest town in Texas. It's an affectionate comment on small-town life and attitudes. Two of Maples Rep's favorite comedic actors, Michael McIntire and Sean Riley, are slated to star.
---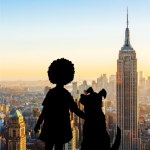 July 16 – August  8
Everyone's favorite orphan takes the Maples Rep stage to remind is all that optimism and hope will win the day.  Featuring a Tony  Award-winning score including "Tomorrow", "Maybe", "It's the Hard Knock Life" and "Little Girls", Annie is a lively, exuberant show loved by all ages.
---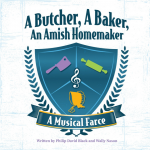 August 12 – 15
Jimmy Marley and Johnny Farley discover they have been rented the same room in a boarding house by their Amish landlady. As the men learn that they have a lot in common, more questions arise that their landlady may or may not be willing to answer. With acerbic wit and slapstick humor, A BUTCHER, A BAKER, AN AMISH HOMEMAKER is a delightful romp full of confused identities and delicious breakfast food. Come enjoy this World premiere of a brand new musical comedy adapted from a French farce as a special one weekend only engagement at Maples Repertory Theatre.
---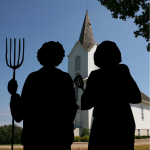 The Church Basement Ladies in You Smell Barn
September 29 – October 17
The ladies of the East Cornucopia Lutheran Church are famous for keeping the church running and meeting every hilarious challenge head on. This new musical follows them home to see how chores family life test their mettle. It's nothing a hotdish can't cure.
---
October 27 – November 7
Abby has always had a quiet room to herself at the Bristol Place Senior Living Facility. If a new roommate was assigned to the second bed, Abby – cantankerous & private – quickly got them out. That is until enthusiastic, optimistic Marilyn arrives. Soon Abby realizes that unseating Marilyn is going to take something special. A high-stakes bet that the two women make leads quickly to an all out war of comic proportions. Ripcord is an often slapstick, always surprising comedy about enemies who may or may not become friends.
---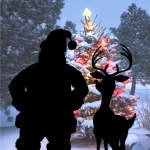 December 1 – 12
Christmas traditions come to life on stage in the all new, singing and dancing extravaganza.  Your favorite holiday songs and characters will delight the whole family.  It's the perfect way to celebrate the season with your family and friends.