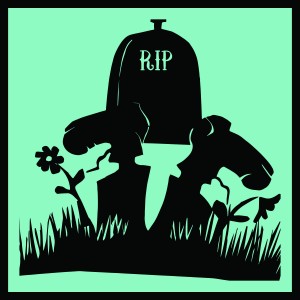 DEARLY DEPARTED, this fall's funniest funeral, opens SEPTEMBER 26 at Maples Rep
DROP DEAD FUNNY COMEDY
Funerals can be funny! That is funerals that do not involve our own "dearly departed."
For an evening of carefree laughter and no tears, you must see the Maples Rep production of DEARLY DEPARTED.
DEARLY DEPARTED, showing September 26 – October 7, tells the story of a funeral that occurs before these days of quick cremations and simple memorial services or the even simpler graveside service with, horror of horrors, no church basement lady-meal. Before this lamentable modern trend, there was "The Funeral". An epic event that caused mental anguish, silent screams of frustration and not-so-silent demands. Anguish that drives the play's Ray Bud Turpin to say to his long-suffering wife, "When I die, don't tell nobody. Just bury me in the backyard and tell everybody I left you."
South of the Mason-Dixon Line they take funerals seriously. The service and attendant events are a necessary ritual with a mandatory formula – like a wedding. Watching a slightly dysfunctional family striving to "do it right" is fertile, rich soil for comedy writers. DEARLY DEPARTED is a perfectly ripe lush yield.
In DEARLY DEPARTED, the patriarch of the Turpin family keels over dead and the struggle to get him buried involves the whole clan, including the not-so-grieving widow who wants to put "Mean and Surly" on the tombstone. The rest of the cast of characters include, of course, family, friends, neighbors, rivals and at least one ex-convict. Emotions run high as everyone tries to put their differences and grievances aside for one final send-off.
Back on stage for this Maples production are several audience favorites. Courtney Crouse, who entertained audiences last season as Elvis Presley in MILLION DOLLAR QUARTET, will play Jr. Turpin. Judi Mann, the hostess who married the butler in the recent Maples hit, THE DROWSY CHAPERONE, will play the widow, Raynelle. Raynelle's sister, Marguerite, will be played by Jonna Wiseman, who delighted us in BOEING-BOEING, LEADING LADIES and MY THREE ANGELS. And last, but certainly not least, is our very own Todd Davison as the minister! The director of this fall's funniest funeral is none other than Peter Reynolds. DEARLY DEPARTED will be Reynolds' fourteenth directing credit at Maples Rep, including MY FAIR LADY, A FLEA IN HER EAR, THE BOYS NEXT DOOR, BLITHE SPIRIT, THE PIRATES OF PENZANCE and, most recently, THE DROWSY CHAPERONE.
Maples Rep fall season will continue with ON GOLDEN POND, October 24 – November 4, and CHURCH BASEMENT LADIES: AWAY IN THE BASEMENT, November 23 – December 9.
In between and after the Maples Rep main stage productions are: Afterglows, Sunday Dinners, Cabarets, Kids' Shows and Kids' Theatre Camps. For more information and to order tickets call the Box Office at 660-385-2924, order online at maplesrep.com, or go by the theatre located on corner of Rubey and Vine in Macon, Missouri.
CONTACT: Maples Repertory Theatre Box Office, 660-385-2924, info@maplesrep.com