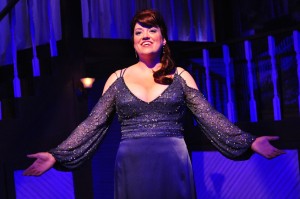 Cheyenne Nelson to Appear in a One-Night-Only Benefit Concert at the Historic Royal Theatre
MACON — Maples Repertory Theatre in downtown Macon is excited to welcome back Cheyenne Nelson to the Royal Theatre for a special night of music and fun, Saturday, September 22, 2018. An Evening with Cheyenne Nelson, a benefit concert for Maples Rep, will feature Jazz, Country, Gospel and Broadway standards backed by a combo of talented musicians. Nelson's powerful voice and natural comedic chops will make this an event to remember. Nelson has been in many productions on the Royal stage including Reno Sweeny in Anything Goes, Miss Mona in Best Little Whorehouse in Texas, and Patsy Cline in A Closer Walk with Patsy Cline.
Maples had the chance to visit with Nelson about this opportunity and caught up on the highlights of her theatre career thus far.
Maples: We're so excited to have you back in Macon. What is it about Macon and Maples Repertory Theatre that keeps you coming back?
Nelson: Macon and Maples Rep are like coming home for me. I love coming back every time! Seeing and visiting all the wonderful friends and "family" I've met over the years. It's definitely the people that keep bringing me back. Todd Davison has created such a wonderful place to create art in Macon and I know how lucky I am to be a small part of that over the years.
M: What kind of music can people expect to hear at your concert?
N: EVERYTHING! I'll be singing some musical theatre classics and other musical theatre favorites of my own, Jazz, Country, Rock, and even a little Pop. Most of the music I'll be singing is on the topic of love – but it's not all gushy and mushy, don't worry.
M: What sort of person is going to love this show?
N: The reason I've chosen such a variety of music is to, hopefully, appeal to everyone. I'll probably laugh and cry and I'm hoping that the audience can take that journey with me.
M: What's your favorite role of all time?
N: This is a tough one. I really loved playing Jeannie in The Great American Trailer Park Musical, but my all-time favorite would be Miss Mona in The Best Little Whorehouse in Texas. That was, of course, here in Macon and it was just a wonderful cast and an overall great experience.
M: What has been your favorite MRT production?
N: The Best Little Whorehouse in Texas is my favorite production. My first show at Maples Rep, Nunsense, is also a favorite. I'm still close to several of those ladies and it was just another great cast and crew who all genuinely cared for each other which, I think, is very obvious to an audience. Also, I always enjoy singing Patsy Cline. It is a gift to sing music that is such a large part of a whole generations love stories.
M: What do you do when you're not on stage?
N: I live in New York City and I'm always auditioning. I also work for a software company and I am there at least twenty hours a week. I enjoy walking and running and, during extreme weather, can occasionally be found in a gym. It also happens to be football season…so at least once a week you will catch me in front a TV cheering for my beloved (Arkansas State University) Red Wolves!
M: If you had a magic wand, what show would you do next?
N: Man of La Mancha.
M: When did you first begin performing?
N: (Laughs) I started dancing at the age of 3 and I continued dancing through high school. When I was eleven years old I joined a traveling choir, Young Singers Institute, and was lucky enough to travel with them all over Europe and to Hawaii. A few years of YSI and private voice lessons at Arkansas State University, and I was ready to give musical theatre a go. As they say, the rest is history.
M: Finally, share a fun fact about you.
N: I have an addiction to podcasts. I listen to at least 5 a day on various topics, but my favorite are the true crime podcasts.
An Evening with Cheyenne Nelson will be held at the Royal Theatre in downtown Macon Saturday, September 22 at 7:30 PM. Tickets for this event are $25 and may be purchased at the box office, by phone at 660-385-2924 or online at maplesrep.com/tickets.
Maples Repertory Theatre strives to deliver quality, professional theatre close to home. Maples Rep is a 501(c)(3) organization. They hold several fundraisers every year and are excited to bring this fun fundraiser to the community this fall.
Maples Repertory Theatre, 102 N Rubey St. Macon, MO 63552 660-385-2924 maplesrep.com