ESRY Award Winners Named
Maples Repertory Theatre Held an Event Honoring Donors and Volunteers
Macon, MO– Maples Repertory Theatre (MRT) held an event Thursday, Mar 30, 2022 to honor their Broadwayworld.com Award 2021 winners and to debut a new honor for MRT Donors and Volunteers. KBIA's Paul Pepper hosted the evening and the audience was entertained by performances by and interviews with Trevor Belt, 
Jane Ann Moots, Melissa Bohon-Webel, Jack Smith, Mike Ekelburg, and many of the "orphans" from MRT's 2021 production of Annie.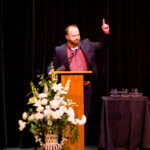 2022 First Annual ESRY Awards
The ESRY Awards are named in honor of Earnest and Norma Esry. From the early days of Maples Repertory Theatre, Earnest and Norma were both great advocates and great supporters of the creation of a professional theatre in Upstate Missouri. With dedication of their time and resources, the Esrys were integral to the continued success of MRT. In their honor, the Board of the Directors annually name two award winners for outstanding financial contributions and volunteer support to the theatre.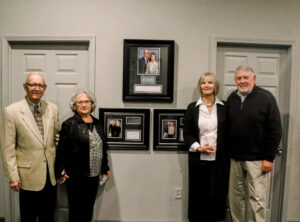 2022 ESRY Award for Outstanding Service: Jim and Leigh Simon 
A can of paint doesn't get opened at Maples Repertory Theatre without the help of Jim and Leigh Simon. Their countless hours of assistance during the 2021 renovation of the theatre as well as their continued support to the maintenance and upkeep of the facilities is invaluable to both the historic building and to the longevity of the organization. Leigh also takes special care of our curb appeal, carefully planting and maintaining the flower boxes in the reception hall windows. Their generous support of the theatre includes the use of their building on the corner of Vine Street, where our education program can hold camps, classes, and rehearsals.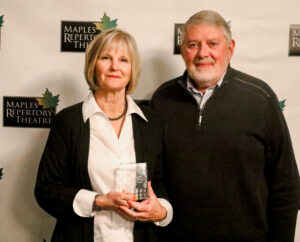 2022 ESRY Award for Outstanding Support: Pat and Sharon Winn 
Pat and Sharon Winn have long been known as great supporters of the arts at Maples Repertory Theatre. Each year at Boots and Black Tie, patrons get the chance to bid on unique and exciting items contributed by the Winns. From autographed guitars to vintage cars, the Winn's contributions create a lot of buzz and energetic bidding. Most recently, the donation of a 1947 Plymouth P-15 Special Deluxe automobile allowed the theatre to raise $25,000 through a very popular raffle. Maples Rep thanks the Winns for their generosity and commitment to MRT.

The evening was a wonderful way to kick off all of the amazing things to come in the 2022 season! Thank you to the MRT Board for hosting such a successful event.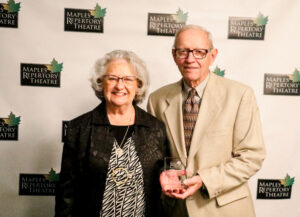 All photographs were taken by Joy Young Photography.
---
Y'all Come Back Now!
Maples Repertory Theatre announces its 2022 Season
Maples Repertory Theatre in Macon has announced a 6-show season for their June-December 2022 production dates. Groups and subscribers can buy tickets now. Single tickets go on sale April 1st.
Macon, MO– Maples Repertory Theatre (MRT) has announced the show titles of their upcoming nineteenth season entitled "Y'all Come Back Now." This season is set to be an exciting blend of shows that will keep you coming back for more. The 2022 season opens on June 15th and runs through December 11th with a brief pause between summer and fall. Titles for the 2022 season include:
The Great American Trailer Park Musical

by David Nehls and Betsy Kelso (June 15th – July 10th)
The Nerd

by Larry Shue (June 24th – July 31st)
Hank Williams Lost Highway

by Randal Myler and Mark Harelik (July 15th – August 7th)
The Bikinis: A New Musical Beach Party

by Joseph Baker and Ray Roderick (October 5th – 16th)
Something's Afoot

by David Vos, James McDonald, and Robert Gerlach (October 21st – November 6th)

A Tuna Christmas

by Ed Howard, Jaston Williams, and Joe Sears (November 30th – December 11th)
Todd Davison, Artistic Director, had the following to say about this upcoming season:
"It seems like a long time since we've all been together.  It's a brand-new season at Maples Rep and we have good times in store for you. Whether it's time to plan your first trip to see us at the historic Royal Theatre in downtown Macon, Missouri or if you're an old friend, we want to welcome you back with open arms.  We'd like to introduce you to our company of professional actors, directors and designers from all across America who gather here in upstate Missouri to share stories of lovers, dreamers, musicians, friends, schemers, and one exotic dancer. The best way to enjoy our season is to see all the shows. You'll laugh a lot, sing along a little and maybe recall a happy memory from your past."
But wait, that is not all! Joining our six mainstage shows is our Theatre for Youth and Families series of shows for all ages. These shows run Wednesday and Saturday mornings at 10am, and are fun, one hour long performances for an audience of any age. This season's Theatre for Youth and Families series titles include:
The Commedia Rapunzel

by Sam LaFrage (June 18th – July 6th)
Furry Tails with a Twist

by

Jennifer Hickok DeFratis (July 9th – 23rd)
The Top Job!

By Robin Moyer Chung (July 27th – August 6th)

We Are Monsters

by Denver Casado and Betina Hershey presented by local kids from Maples Youth Center Stage Education Program (July 2nd)
We hope that you will join us for this fantastic lineup of shows. Maples Repertory Theatre is a non-profit professional theatre company that produces a full mainstage season and a theatre-for-young-audiences summer series at the historic Royal Theatre in downtown Macon, Missouri.  For season tickets and information, call the box office, 660-385-2924 or visit www.maplesrep.com. Y'all Come Back Now– 2022 is going to be a wonderful time!
---
Maples Repertory Theatre Wins Regional Theater Awards 2022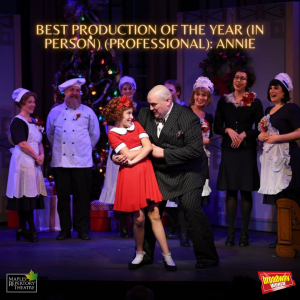 Macon, MO (January 20, 2022) – The Maples Repertory Theatre (MRT) is proud to
announce that they have just won several Broadway World regional theater awards for
productions, cast and crew members who were part of their 2021 season. The Broadway World
2021 Kansas City Regional Awards honor productions which had their first performance
between October 1, 2020 through September 30, 2021. It's humbling and exciting to receive this
kind of recognition of the quality of MRT productions.
Maples Rep productions received 13 nominations for awards in various regional
professional theater categories. Our eight winners included:
Best Costume Design Of A Play Or Musical (Professional) Jack Smith – ANNIE – Maples
Repertory Theatre
Best Musical (Professional) ANNIE – Maples Repertory Theatre
Best Play (Professional) GREATER TUNA – Maples Repertory Theatre
Best Production Of The Year (In Person) (Professional) ANNIE – Maples Repertory Theatre
Best Sound Design Of A Play Or Musical (Professional) Mike Ekelburg – I LOVE A PIANO –
Maples Repertory Theatre
Best Supporting Performer In A Musical (Professional) Sean Riley – ANNIE – Maples Repertory
Theatre
Best Performer In A Musical (Professional) Jane Ann Moots – ANNIE – Maples Repertory
Theatre
Best Performer In A Play (Professional) Sean Riley – GREATER TUNA – Maples Repertory
Theatre
---
Sunderland Foundation Award Press Release 2021
Maples Repertory Theatre Receives Sunderland Foundation Grant
MACON, MO — Cast, crew, and theatre camp youth will soon have a newly renovated space in which to rehearse theatrical productions, create costumes and props, and hold education events for the Maples Repertory Theatre (MRT).
Thanks to a $50,000 grant from the Sunderland Foundation, Maples Repertory Theatre will be renovating and upgrading its historic Kisor Performing Arts Building in downtown Macon, MO. Renovations are expected to begin in August. The Kisor rehearsal hall is used by nearly every person in every show sooner or later, including children enrolled in summer theater camps. This project will not only result in an enhanced asset to downtown Macon, it will also have an exciting impact on everyone involved in MRT productions.
"As a first-time recipient of Sunderland Foundation funding, we're immensely grateful for this new relationship with this highly prestigious Foundation," said Todd Davison, Artistic Director of Maples Repertory Theatre. "This affirms and supports our mission to produce the best possible theatrical experiences for the audiences of Missouri, and our intent to help downtown Macon prosper."
The Kisor Performing Arts Building is named for Roy F. Kisor, a life-long resident and former mayor of Macon, Missouri. It was gifted to Maples Repertory Theatre in 2005 by Dixie Maurer-Clemens, Roy's niece, upon his death. The building has served as a dance hall, offices and various restaurants throughout its existence before being transformed into rehearsal and shop space by Maples Rep.
The renovated space will improve the 75 yr. old Kisor building's safety, accessibility, appearance, and suitability for the activities that take place there in support of main stage productions. Anticipated renovations include a new HVAC system, new flooring, new windows, and restroom modifications as well as exterior improvements. In addition to Sunderland Foundation funding, MRT has obtained matching funds that will bring the project budget total to $100,000.
The Sunderland Foundation, headquartered in Overland Park, KS, supports higher education, arts & culture nonprofits, human services, and healthcare and hospitals through investments in the places and spaces where these groups do their work, having done so since 1945. In 2020, $16 million was awarded to arts and culture groups to build and improve their facilities.
Press Release sent to the paper by Paula Cochran
Posted by Reporter Benjamin Nelson
---
2020 Recipient of Missouri Arts Council Funding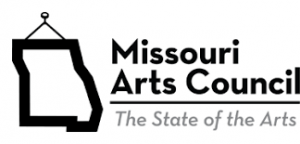 Maples Repertory Theatre is proud and appreciative of the funding received from the Missouri Arts Council, a state agency.
The Missouri Arts Council (MAC) rewarded Maples Repertory Theatre funding to support professional theatre performances at the historic Royal Theatre in Macon, Missouri.  The theatre plays a key role in drawing people from all over north Missouri to downtown Macon.
Grants from the Missouri Arts Council make it possible for many arts organization s to continue their missions, serve their communities, and contribute to the overall economic growth of Missouri.
---
2020 USDA Grant Project Funded: Chair-ity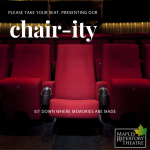 "Area Groups Join Together to Improve Royal Theatre"
Winter is generally a slow time at the Royal Theatre in downtown Macon. This year the Coronavirus Pandemic has made the theatre especially quiet. However, a group of community supporters are taking advantage of this down time to remodel and refresh the theatre interior including brand new seats.
The Royal Theatre has served the Macon area as a center for entertainment and education for 130 years. It has been the venue for traveling shows, community events and movies. Blees Military Academy cadets used the theatre for convocations. The first public high school in Macon County (located at Bourke and Vine Streets) did not have an auditorium, so concerts and graduations where held at the theatre until the "new" school was opened in 1931.
During the period when the Royal operated as a movie theatre (1930-1995) local service clubs and the Chamber of Commerce continued to use the building as a community auditorium. Beginning in the 1980's Carousel Productions stared producing community plays at the theatre. Since 1991 thousands of volunteer hours went into cleaning and remodeling the property to make it more suitable for live performances. In 2004, Maples Repertory Theatre opened its first season of professional shows at the theatre.
Now it's time to remodel and update this valuable community facility. The seeds of this current project were planted over a year ago when Denise Bennett at Macon County Economic Development became aware of a rural development grant from USDA which is available for our area. Maples Repertory Theatre began working with USDA to find a project that could work to the benefit of the area. Reseating the auditorium including redesigning the balcony was the chosen project. Carousel Productions joined the effort and they were able to present the project to the Industrial Development Authority of Macon County and secured their support and funding. "When we have big shows such as LES MISERABLES, SHREK, or our upcoming BEAUTY & THE BEAST we seat a lot of people in the balcony. This remodel and new seats will make those balcony patrons much more comfortable" said Sandy Coons, Carousel Productions President.
Now the work is beginning. On November 5th the Macon High School FFA chapter removed all the seats from the balcony. This excellent community service work started the remodel project. Eventually the balcony seats will be refurbished and offered for sale in small sets to help fund the ongoing project. The next week other area residents removed the seats on the main floor of the building. Throughout the winter moths all the walls will be re-plastered and painted working toward installation of new seats and new carpeting during March 2021.
"it is great to have so many groups working together on updating the Royal," said Todd Davison, Artistic Director of Maples Repertory Theatre. Anyone who wants to support the project and leave a lasting memento int he building can do so through sponsoring a seat. A special project called "Chair-ity" allows patrons to inscribe a plaque which will be displayed on the wooden armrest of each new theatre seat. Individuals may sponsor a seat in appreciation or in memory of a loved one or to commemorate a special event. A specific seat in the auditorium may be sponsored, or a "general admission" seat may be chosen at random. Go online at bidpal.net/chairity or call the Mapes Rep box office 660.385.2924 for information about sponsoring a seat.
In the spring a Grand Opening Celebration will be planned to show off the work to the public. "Because of COVID we can spend a little more time and finish more of the little side-projects we have dreamed of. I know everyone will be impressed and proud of the final product" Davison said.
Published in The Macon County Home Press on November 16, 2020.
You can be a part of the future at Maples Rep by sponsoring a new seat! Your dedication will be engraved on a handsome metal tag displayed on your sponsored seat. The cost is $150 per seat, plus an additional $50 to sponsor a specific seat in the location of your choice.
Sponsorships are available now online or at the box office.
---
2020 Bayer Award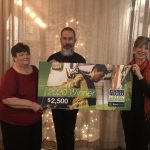 Macon, MO (October 16, 2020) – Local farmers Drew and Becky Belt recently directed a
$2,500 America's Farmers Grow Communities donation, sponsored by Bayer Fund, to the
Maples Repertory Theatre. The award was announced by Artistic Director Todd Davison and
board president Connie Argotsinger at the theatre's annual Gala Dinner fundraiser held recently
at the Pear Tree Kitchen and Bar. Attending the gala were supporters and theatre fans from
throughout the surrounding area, including Macon, Kirksville, and Columbia.
"The Theatre is grateful to the Belts and to the Bayer Fund for this award. A donation
like this during a time like this means a great deal to a nonprofit organization like ours" said
Todd Davison, artistic director.
America's Farmers, sponsored by Bayer Fund, is focused on strengthening rural America
through three community outreach programs that partner with farmers to make an impact in
communities where farmers live and work. The programs have given more than $53 million to
rural America since 2010 and include: Grow Communities, Grow Rural Education and Grow Ag
Leaders. To learn more about the three programs visit AmericasFarmers.com.